--THIS SECTION IS THE PULL DOWN MENU--/> --THIS SECTION IS THE MAIN TEXT BOX--/>
RNR administration and Lynnsport information
Hi Visibility Garments
The race Safety Rules (view these here) require hi-visibility/reflective garments to be worn during the event. It is important that all hi-visibility garments worn by runners, marshals, supporters and cycle escorts have strong reflective properties and are in good repair. Flimsy vests made up of (so-called) reflective mesh do not do the job and are unacceptable. Referees will be asked to pay particular to this important safety matter.
Timekeeping
Please read the general rules 35 to 44 concerning timekeeping aspects.(view these here)
Timekeepers are requested to wear a his-vis vest with the name 'Timekeeper' on it so that they are easily identified at the Finish and when Results Sheets are collected at other places during the race.
For Time penalties for stage defaults (taken from the 2016 race). Click here
Useful tips

Start at least 2 timers at the start in case one malfunctions or is stopped accidentally.
Check well beforehand how the timers work e.g. which button does what and whether there is a lock button which prevents accidental operation. (It must be unlocked before further use).
Check to ensure batteries are fully charged and trial use all timers before the race.
Use proper timers rather than wrist watches or mobile 'phone timers. They are more convenient and easier to read.
Multi-timers are best. They will retain all the times taken and these can be checked through while the race is in progress.
After your timer has run for 10 hrs. it will most likely run over to 0:00:00.00. Don't panic and don't think it's wrong and stop it! Just add the 10 hrs to what it says and likewise another 10 after 20hrs
Course Marking.
Although route finding is a team responsibility, the course will be marked where necessary by the use of A5 size red signs with a black arrow, on the off-road sections and with A5 yellow signs on the road stages.The letters RNR will appear at the top of the arrow. If the RNR is not at the top, the arrow will not be pointing in the correct direction suggesting that the sign has been tampered with. Those running off-road stages are strongly advised to familiarise themselves with their route prior to the race.
Vehicle Warning Sign & Team Number.
Each team will be given a team number (tyvek) and a magnetic 'Slow moving vehicle' sign, to be displayed on the team vehicle, at registration. The magnetic vehicle sign is costly and must be handed in at Lynnsport. In the event of loss the cost of replacement will be debited to the team concerned
Catering Arrangements.
For details of the meals available at Lynnsport over race weekend view here
Memento and Prizes.
A unique commemorative memento will be given to all competitors.
For a list of team and individual prizes see the prize list
Appearance Awards: Individuals and clubs that complete 10 or 20 races will be awarded a special medal or memento.
Accommodation
For the teams requiring overnight accommodation, over race weekend, there are a number of options:
Lynnsport allows for camping in the grounds and 'rough' sleeping in the Centre. The Centre will remain open overnight on the Friday and Saturday of the race weekend. Competitors and spectators of the RNR are welcome to camp on the football pitch near to the main entrance of Lynnsport. This area will be available from 12 noon on Friday to 10am on Monday. If you would like to camp please contact Lynnsport on 01553 818001 to register your name or club, which will be required to gain access through the barrier, to the camping area. The centre is well appointed and includes showers, toilets and changing rooms. The centre also operates a bar and buffet service during normal opening hours, which are extended during race weekend; additionally there are vending machines.
Kings Lynn Youth and Community Centre Offers several comfortable rooms suitable for sleeping, eating and relaxing. It has a fully equipped kitchen, separate male/female showers and hot water is included in the price. Parking is available. Those using this facility would have to provide their own bedding/beds. The centre is about 1.5 miles from Lynnsport and adjacent to the route. To book contact Anne Gardner 01553 773565 or anne.gardner@norfolk.gov.uk.
For additional accommodation including, B & Bs, hotels, camping facilities in the local area, the tourist information centres at King's Lynn (01553 763044) or Hunstanton (01485 532610) are able to supply further information and help.
Lynnsport and Leisure Park is situated in 72 acres of parkland which makes it the ideal venue for hosting the Round Norfolk Relay. Lynnsport is clearly sign posted from all the major routes into King's Lynn.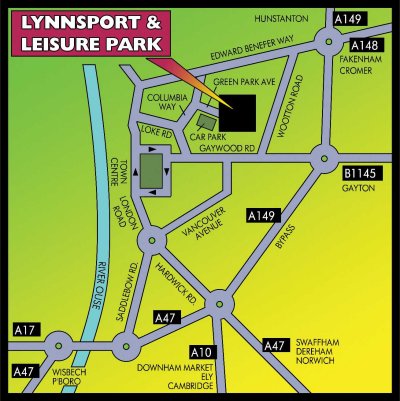 General
Provision of refreshments, first aid cover etc. is a team responsibility, except that the race director will provide each runner with a 500 ml bottle of water. A list of hospitals, toilets and 24 hr garages (on the route) are included within each stage description. This can be viewed here. In the event of an emergency, the 999 services should be used. A list of places where on route refreshments can be purchased is also included within the stage descriptions.
RNR information booklet - 2017
Your race coordinator will have a copy of this. However you can view and download the online version here.
Child Protection Policy.
The Round Norfolk Relay has a child protection policy (view here) which is administered by the Race Director.
Weather Check

Met Office Weather
Before you leave for an event, you can check on the weather forecast to see if it's going to stay fair or if Mother Nature isn't feeling quite so kind.
www.metoffice.gov.uk